If you created your trial, but did not finish setting up your ImageEngine Account, you will need to make sure to create an Engine.
Login to your account at control.imageengine.io and follow the instructions to create your first engine. Once you have completed this, you can use the Engine's delivery address in your image URLs to optimize your images!
Upon logging into the Control panel, you will see this screen: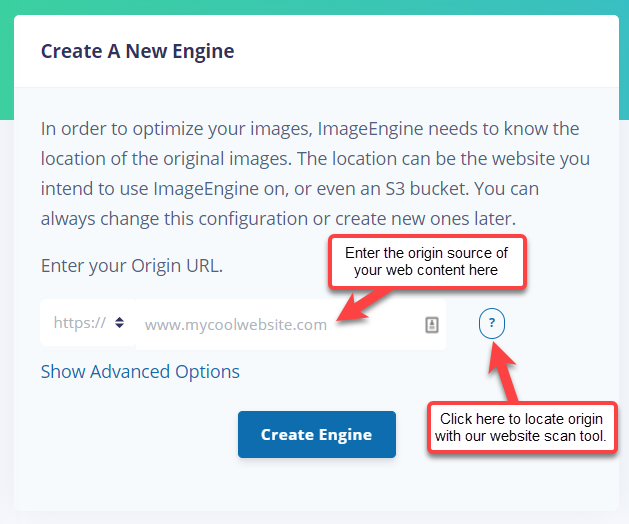 You will need to define the Origin of your web images.
The Origin is where you store the images that are shown on your website. In most cases, it will be the domain of your site. If you click the ? button, the website origin scan tool will open, and will suggest an origin based on your website URL. If you still do not see the origin you desire, you can always type in a different origin by clicking the "other" radio button.
The origin can be the URL of your web site, an online storage service like Amazon S3, or Google Cloud Storage, or other 3rd party services. The images stored at the origin must be available through common internet protocols.

Once you have input a origin URL, click the "Create Engine" button
You will now be taken to the ImageEngine account control panel. Your account is now ready and ImageEngine has created a Delivery Address for you.
Please proceed to our implementation guide for general deployment information: Implementation Overview
You can find integration guides for many platforms here: Platform specific integration guide
If you'd like some help getting your trial account set up, please do not hesitate to schedule a meeting on our team calendar.