Shopware is a powerful commerce platform. With the ImageEngine plugin for Shopware, images will be automatically optimized for any browser and device ensuring a fast experience and beautiful images.
The ImageEngine plugin is compatible with Shopware version 6 and above.
How to install the ImageEngine plugin for Shopware
Plugins in Shopware are zip files that can be uploaded in the admin section of Shopware.
Get the plugin from the Shopware Store
The ImageEngine Shopware plugin is available for download in the Shopware Store.
Download the plugin directly
You can also download the ImageEngine plugin here, and save it to your computer.
Install the plugin
Log in to the admin section of Shopware, then go to the "Extensions" page and click the "Upload" button in the top right corner.

Find the zip file downloaded in the previous step and upload the file.
Once uploaded, the ImageEngine plugin will appear in the list of apps. Click "Install app".

Next, activate the plugin by clicking the flip-switch.

Set up ImageEngine for Shopware
Once installed and activated, go to "Settings" from the main menu, then click "Extensions" and "ImageEngine".
Make sure that ImageEngine is enabled for the desired sales channels. "All Sales Channels" (including headless) is recommended.
Insert your ImageEngine delivery address
If you don't already have an ImageEngine delivery address, follow the instructions on the page to sign up for an ImageEngine Account.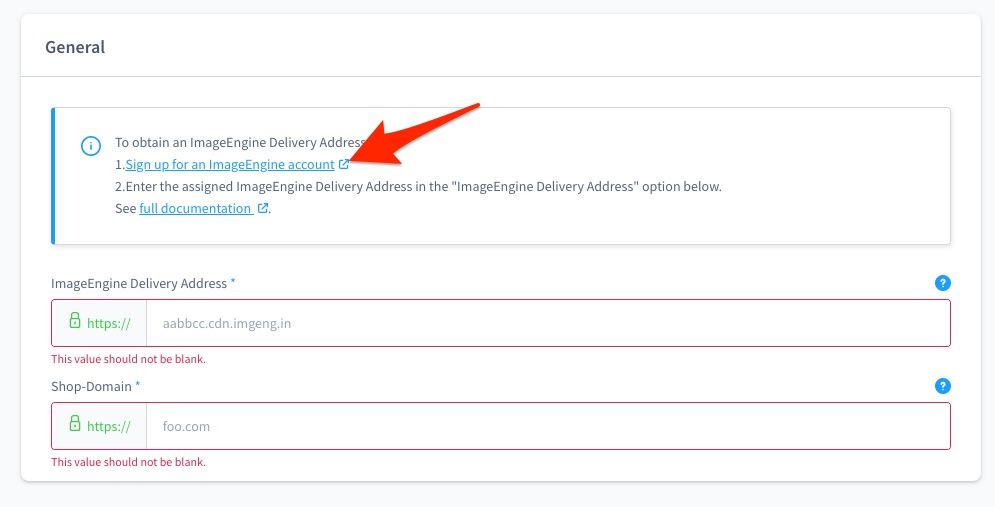 If you already setup an ImageEngine delivery address for the site, log into the control panel and copy it.
Once you have copied your delivery address, paste it into the "ImageEngine Delivery Address" field:

Also, make sure to provide the domain (example.com) of your website.
Save the configuration by clicking "Save" in the top right corner.
Check implementation
To verify that ImageEngine is implemented on your Shopware site, you can either check the HTML source to see if image references are now pointing to the delivery address provided above, or you can use the verification feature in the control panel:

To get more insights into how images are optimized, you can inspect images individually using the audit feature.