Basic and Standard Plans
The following information applies to Basic and Standard accounts. If you have or are interested in a "Pro" level plan with parameters customized for your needs, please see the Pro Plan section of this article.
Standard and basic subscriptions are billed on the anniversary of when the subscription becomes "active" at the end of their 30-day trial period. The first payment is billed 24 hours after the account becomes active. The amount that accounts are billed is determined by the subscription type, Basic or Standard (see our Pricing).
If Smartbytes usage during the prior billing period exceeds the allowance for the billing tier, an additional $00.40 per GB will be charged on the billing date. Please check your account analytics to check your usage totals.
If a trial just ended, this overage may be waived for the first bill, unless total usage during the trial was exceptionally higher than the 250gb included in the Standard Plan.
If overages are routinely being billed, please consider contacting our sales team to upgrading to a "Pro" level plan. See "Upgrade Your Account"
Add or update a payment card
A valid payment method is required for your ImageEngine account so that it may be billed. This will first occur at end of the trial period, and then monthly thereafter. Entering your payment information at any time in the trial will not cause the immediate end of the trial, but if payment information is not provided by the expiration date, the account will be canceled.
If a payment method is not already on file for a trial, the option to "Add Payment Method" will be visible in the meatball menu next to the subscription name.

This is how the Payment Information screen appears: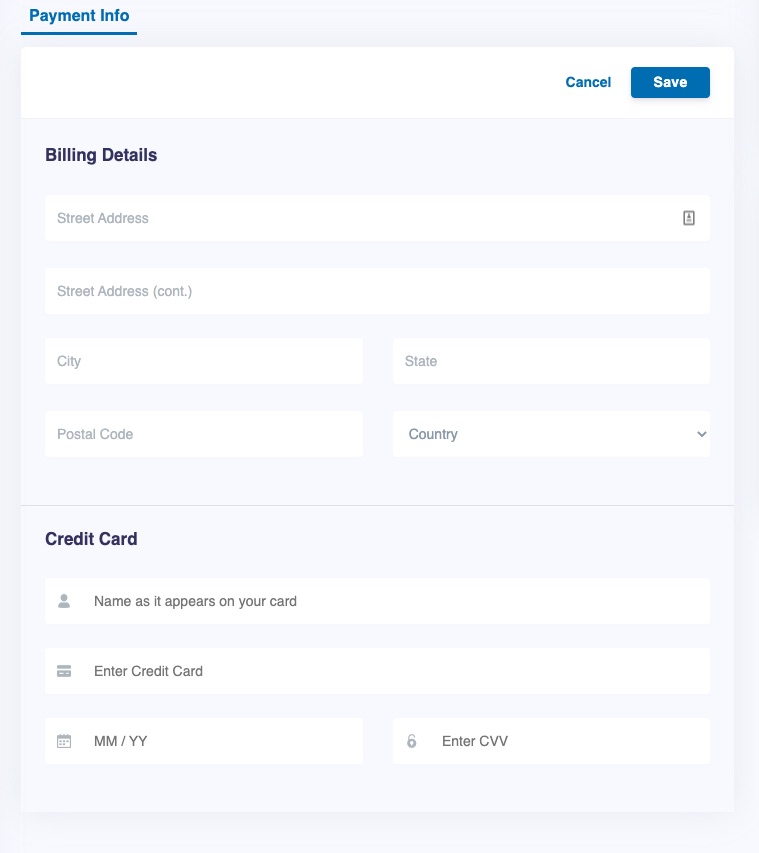 Fill out the form, and click "Save" to add the payment card.
Updating billing information
If you need to change or update the billing information in the future, you'll find a menu item in the meatball menu next to the subscription name:

Billing History
In the menu you'll also find a link to the billing history. Here, you'll also find receipts for all transactions.
These are the pieces of information displayed:
Invoice
Date
Card
BillingPeriod Dates
Amount
Status (Approved/Denied/Pending)
Pro Plan
Due to the custom nature of Pro Plans, billing is done on a separate system. Invoices are emailed to the address on file.
If you need to acquire billing history, update your billing information or make other changes, please contact your Sales Representative. If you are uncertain of your Representative's contact information, message us at support@imageengine.io.